I fell in love with the outdoors while spending ten years of my childhood in the Girl Scouts program. My affinity for hiking has grown stronger ever since! My favorite hikes to date include the Chimney Tops trail in the Smokies and the Cliff Trail in Waimea Canyon, Kauai. No matter where I am traveling, coast to coast, I never hit the trail without a pair of the best hiking sandals.
Adventure awaits! Prepare to go out and explore by selecting one of these three best hiking sandals for women. Much like the best sleeping bag review, in this article, I'll describe the benefits of each pair, including my absolute number one pick – the best hiking sandals I cannot live without.
The Chaco Women's ZX2 Classic Athletic Sandal is my number one choice for the best hiking sandals. These sandals and I have made some serious memories together! They have outlasted all my other hiking gear, and have become a true adventure companion. Forget lucky socks, I wouldn't leave home to explore without my Chacos.
You figure your favorite shoes can only take so many miles. Some people even think ahead and buy a second pair of shoes that they really love, anticipating needing to replace the ones they wear so often. That is why I'm shocked that my Chacos are still in such excellent condition.
But I really shouldn't be surprised. They're called classics for a reason. The Chaco Women's ZX2 Classic Athletic Sandal has been around since 1989 and is still one of their best-sellers. Each layer of the Chaco Women's ZX2 Classic Athletic Sandal is made up of unique quality materials.
Polyester jacquard webbing is used for the upper straps around the midsole and foot. High-tensile webbing is used on the heel risers and a Chaco trademarked rubber compound is used for the outsole.
Chaco keeps it simple and uses materials that eco and vegan-friendly. Because the sandals are constructed with high-quality materials, you can see and feel the difference.
When you are on your feet for hours, especially during outdoor or athletic activity, the fit of your shoes has to be just right. Anything less than a perfect fit can result in soreness, muscle pain, blisters, and more.
The Chaco Women's ZX2 Classic Athletic Sandal has size and fit, all worked out. The polyester jacquard webbing on the upper part of the sandal is double strapped and fully adjustable. Even the toe-loop is adjustable. The thicker ankle strap is also adjustable, allowing you to get a snug and supportive fit on the back of the foot.
Unsure of how to work with the straps to get the best fit and support? Chacos has got you covered with a simple step-by-step visual tutorial on their website. Easily adjust your straps to get the perfect fit for your foot and enjoy the comfort.
The best part is that you can recalibrate the fit of your sandals anytime you need to. Experiencing swelling in your feet? Maybe your straps have loosened slightly after months of wear? Re-adjust the straps for a more comfortable fit, and get back to your adventure.
The Chaco Women's ZX2 Classic Athletic Sandal has improved since its conception in 1989. Most recently, Chaco has added a podiatrist-certified LUVSEAT™ PU footbed. Not only are the sandals rugged enough for your outdoor adventures, but they are also comfortable enough to wear all day long.
When I was an outdoor summer camp counselor, I was so thankful for the support my Chaco Women's ZX2 Classic Athletic Sandal provided my feet during my 12 hour work days! They've survived many summers, in part thanks to another unique design feature- the ChacoGrip™ rubber compound on the outer sole of the sandal.
The ChacoGrip™ outer sole is an upgraded rubber compound on the Chaco Women's ZX2 Classic Athletic Sandal. It has new tread designs that are optimal for wet traction. They are also smudge and mark proof, extending the life of the sandal.
The high-tensile webbing material used on the straps is incredibly durable. Mine have not frayed, torn, or splintered yet. Even the fabric itself seems to be fade resistant. As a company, Chaco is committed to sustainability. Their products are designed to be repairable, rather than replaceable.
I anticipate wearing my Chaco Women's ZX2 Classic Athletic Sandal for many more years to come!
The design of the Chaco Women's ZX2 Classic Athletic Sandal was originally made for class 5 whitewater rapids. The sandal has evolved to be worn and used for so much more! With a mostly exposed foot, this sandal transitions easily from land to water. In fact, I have regularly worn them in a kayak or a lake. They are excellent for hiking adventures that involve creeking, caving, or swimming. Plus, they dry in no time!
Maybe how you look or your footwear style isn't your top priority when you're out on the trail, or maybe it is. There's just no denying that the Chaco Women's ZX2 Classic Athletic Sandal has a classy, simple style that looks good on everyone. With four standard color patterns and the option to customize, you can show off your own personal style with your hiking sandals.
Chacos is an award-winning retailer with strong customer service and customer loyalty. This is one reason that I will continue to shop with them. The Chaco Women's ZX2 Classic Athletic Sandal comes with a warranty that covers defects in materials or workmanship for the entire life of the product. Making returns and exchanges are quick and easy.
If you're like me and love your Chacos, but need to repair them, you can use the Chaco repair system. The Chaco team will expertly repair your sandals, giving them the tune-up they need to trek more miles!
[amazon_link asins='B011AK8C1M' template='Custom' store='walletpath-20′ marketplace='US' text=" link_id='1358e387-c35c-11e8-b279-89de1561123a']
With its own unique set of attributes, Keen makes a killer hiking sandal that rivals Chaco. I'll discuss what makes this sandal special and sets its apart Chaco and other popular sport hiking sandals.
Keen has pioneered their own smart materials with careful thought for comfort, function, and practicality. The upper webbing is crafted from a breathable polyester material that is comfortable and machine washable. Just carefully use a small amount of detergent and wash on a gentle cycle to keep these sandals looking like new.
The mesh lining helps the material dry rapidly, so you don't have to squish around in wet shoes for your whole hike. The KEEN Women's Newport H2 Sandal features a waterproof leather upper and rubber outsole that is built to be tough. They'll hold exceptionally well on rocky terrain. All the materials used to craft Keen sandals are PFC-free.
The secure fit strap design on the KEEN Women's Newport H2 Sandal adjusts to create a comfortable fit for any foot. It's even simpler to adjust this sandal than it is to adjust the Chacos. Loosening and tightening the center strap is quick and easy. They'll be ready for wear as soon as you take them out of the box.
Designed with a compression molded EVA midsole and footbed, you'll wish you could wear these best hiking sandals option to work! You can really go the distance without worrying about foot aches during your hikes. In KEEN Women's Newport H2 Sandal, the internal support mechanism is anatomically engineered to give unparalleled arch support and follow the natural contours of the foot.
Do you struggle with foot or shoe odor? Don't be embarrassed, it happens to the best of us, especially with shoes that we use for exercise and athletic activity. Keen designs for the real customer, and have come up with a solution for this very real issue. The upper webbing of the shoe is engineered with an odor-reducing Aegis Microbe Shield, and the sole features Cleansport NXT™ for natural odor control. Goodbye foul odors, let your feet breath and enjoy the outdoor air without reservations!
Never worry about a stray strap or untied lace again. The KEEN Women's Newport H2 Sandal uses a secure fit lace capture system to solve that problem, keeping you safer on the trails. Overall, the sandal's versatile design makes it ideal for transitioning between different terrains. You can go from hiking to kayaking, to biking, all in one afternoon and in one hiking sandal.
Keen uses a one of a kind multi-directional lug pattern for increased traction on the rubber outsole. This razor-siped sole will help you keep your footing on slippery surfaces as well as dusty dry ones. It's also non-marking, which extends the life of your sandal keeping it looking newer for longer.
Practically speaking, unless you're on a well-worn path, things can get a little rugged. You want your toes to be protected from the rocks and roots that you stumble across along the way. But can a sandal protect your toes? Keen says, yes! In fact, the brand is known for pioneering Patented Toe Protection. The design functions in a way that allows the shoe outsoles to wrap up and over the toes for complete protection.
You can have the best of both worlds – breathable sandals that are tough and protect your feet!
For a multi-functional athletic hiking sandal, the KEEN Women's Newport H2 Sandal is pretty good looking. With 16 different color and pattern combinations to choose from, you can find a sandal that represents your unique style.
Keen customers are loyal because of the excellent service, honesty, and transparency that the company offers. You can feel good shopping knowing that your purchase also goes towards Keen initiatives that include reducing their eco-impact and giving back to sizable non-profit charities.
The KEEN Women's Newport H2 Sandal does come with a warranty. The company offers a one year guarantee against manufacturing and material defects for items purchased from authorized KEEN resellers.
Well known for expertly combining comfort and style, Teva has another great hiking sandal on the market. Their Teva Verra Women's Hiking Sandal is perfect for the young minimalist who wants to be Instagram ready on their outdoor adventure.
At first glance, it looks like there's not much to these super sleek best hiking sandals options. But upon closer inspection, one will see that sometimes less is more, and the materials that are included are high-quality ones.
The upper part of the sandal is made with water-ready polyester webbing. It dries super quickly after getting wet, helping you get back to feeling comfortable on your journey. And when shoes get wet, they tend to stink (even open-air ones, like sandals). Treated with Microban®, the Teva Verra Women's Hiking Sandal is odor resistant. With these sandals, you can explore freely without fear of embarrassing foot odor!
The Teva Verra Women's Hiking Sandal is designed with an easy hook-and-loop closure. You can take it on and off quickly, and adjust it to get just the right the fit. You also want your foot to feel supported when you are off on long day hikes. This sandal features a contoured EVA footbed. The fit purposefully supports your arch to keeping your feet healthy.
One thing Teva customers love about this sandal is its cushioned Shoc Pad™ in the heel on the shoe. The innovative design absorbs impact where your foot needs it the most, which helps your ankles and calves feel better too!
The zinc-based antimicrobial technology in the Teva Verra Women's Hiking Sandal is impressively effective when it comes to preventing stink. Clearly, the designers of this sandals have real-world hiking experience and engineered it to meet the needs of outdoor enthusiasts.
One noticeable difference between these sandals and the others are their super light-weight design. They don't feel clunky or heavy. They'll also fit easily in a backpack for your spur of the moment travels!
The water-ready polyester webbing is a highly durable material, not prone to fraying or fading. The sandal also features Spider Original rubber outsole. This material is strong and durable and provides the traction you need to keep you safe on the trails. It is not designed to be mark or smudge proof, unfortunately. This is a small flaw, but not a deal breaker.
Teva Verra Women's Hiking Sandal is best for warm climates or seasons, simply due to its very open design. It will serve you well on a clear-cut path or trail, but may not provide your feet the protection you would need on a more rugged terrain.
Customers who love this shoe are fans of how it transitions easily from water sports to hiking. For a day of hiking and kayaking, or caving and cliff jumping, this sandal can handle it all. Just watch your toes! The Teva Verra Women's Hiking Sandal leaves your toes, and top of your foot very exposed.
Teva is best known for its original sports sandal, which is little chunky looking, in a retro way. Teva Verra Women's Hiking Sandal is a sleek, feminine counterpart to the classic Teva original. Out of the top three women's best hiking sandals I've selected, Teva takes first place for style. With its slim outsole and criss-cross straps, it's stylish enough to wear out and about around town. These sandals are definitely photo ready when you've found the sweet spot on your hike.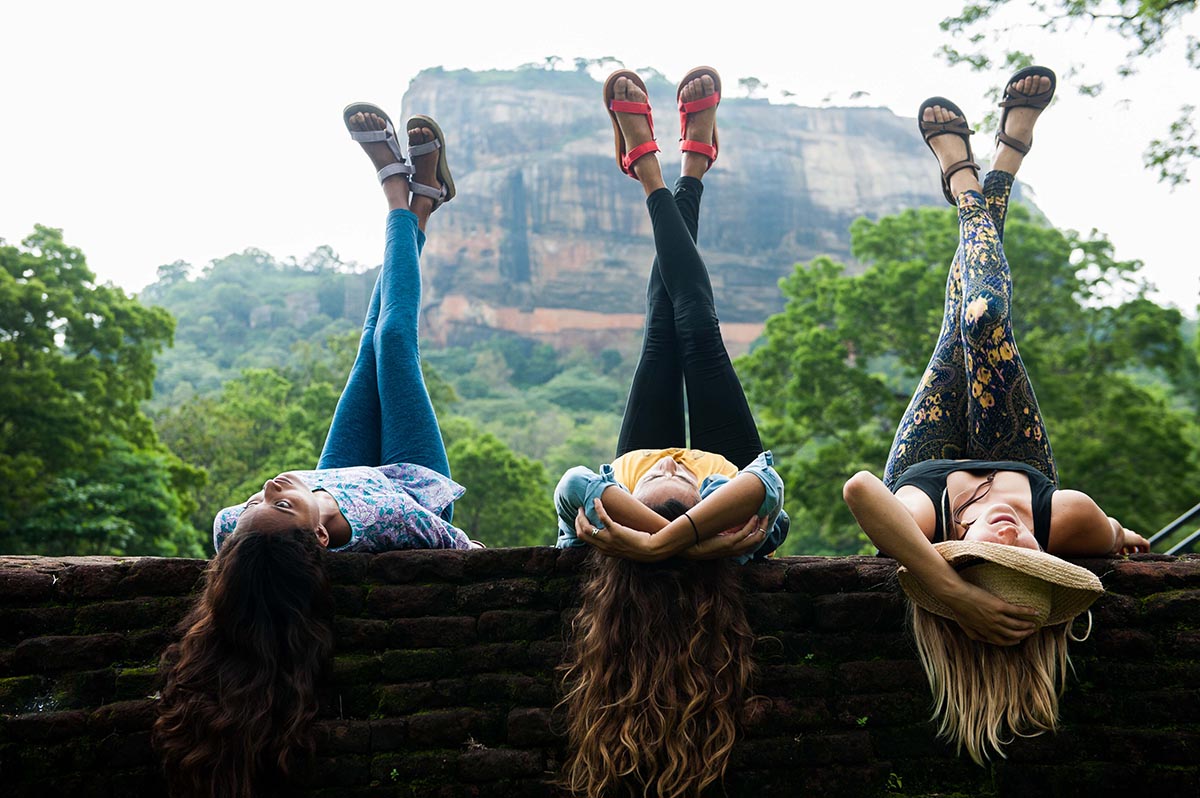 Customer Service
Teva has a reputation for being a company that stands by their product. It' not unheard-of from them to replace a pair of shoes if a strap breaks or some other issue with manufacturer defects occurs.
Officially, Teva® offers a limited one year warranty that applies to manufacturer defects only. Although they will happily exchange or replace a product that qualifies for the warranty, they do not do repairs. This might decrease the lifespan of the sandals, but most loyal Teva customers brag that their sandals last for five years or more!
Shopping on a budget? Teva offers a discount for students! You can gear up for your next adventure, even on a college budget.
Considerations When Choosing the Best Hiking Sandals
As you try to determine which hiking sandal you want to buy, start with the end in mind. What are your outdoor adventure goals? Are you an avid hiker who is always seeking out the best waterfalls and swimming holes along the way? If you're planning a trip in tougher terrain, like the Rocky Mountains, for example, you need to consider how much protection your feet will require.
KEEN Women's Newport H2 Sandal leads the pack in superior foot protection. It can handle any obstacle that might across your path. The only drawback is that it is a heavier shoe, not the same breezy feel as the Chacos or Tevas. That can make a difference on long distance hiking excursions though.
I love how my Chaco Women's ZX2 Classic Athletic Sandals adapt to just about any adventure I take. They ate sturdy enough to hike trails that are off the beaten path but lightweight enough to wear comfortably for hours and hours.
The best hiking sandals will be well worth the investment. Hiking sandals made from exceptionally high-quality materials should last you many years. That being said, you have to draw the line somewhere. Decide what your gear is worth to you – $40? $60? $80? It might depend on how often you plan to use them.
For example, I love to hike, but now I'm a mother of three and my time is somewhat limited. If I'm being realistic, between the kids' soccer games and band practices, I might get in two or three (kid-free) long hikes per month. But that time is precious and I want to make the most of it, so I'm OK with splurging a little on myself.
I also end up wearing my Chacos to many everyday events like boy scout outings and school picnics. For the wear I get out of them, an $80 pair of hiking sandals is completely worth it, in my opinion.
These top three hiking sandals are all engineered a bit differently when it comes to size, fit, and support. Everyone's feet are so unique. What feels comfortable to me may not feel the same to you.
Although the convenience makes shopping online tempting, I highly suggest you try on a few different pairs of hiking sandals before you make a final decision. Many online retailers, including Amazon, offer a 'try before you buy' program now – win-win!
All three of the best hiking sandals on my list rank very highly in foot support and have been designed with new technologies to keep you as comfortable as possible. The easiest way to ruin a hike is to develop a blister or chaffing on your feet. You'll be miserable. So even though I included some style notes on each sandal, be sure to prioritize comfort over looks.
In Summary of the Best Hiking Sandals
The Chaco Women's ZX2 Classic Athletic Sandal is my top pick for best hiking sandals for women. I've been enjoying mine for years, and can attest to how durable they are. They are the perfect combination of functional and stylish, and they are so comfortable that I can wear them all day.
With Chaco's amazing customer service, I know I can send them in for repairs if I ever need to. It also feels good to know that I'm using my consumer power to support products that are vegan and eco-friendly.
For the all-around best-hiking sandals, this is my top choice!
Q: Are sandals good for hiking?
A: A quality pair of hiking sandals can keep your feet dry and airy while out on the trail. They can prevent issues with sweaty socks, or squishy wet sneakers. The best hiking sandals are ideal for easy to medium level trails, but they typically do not offer the same level of support as hiking boots on difficult trails.
A: There is sometimes confusion about whether Tevas are simply water-resistant or water-proof. Tevas are, in fact, completely water-proof.
Q: Can I buy a single shoe?
A: Sometimes accidents happen out on the trail! Customers occasionally damage one sandal while the other remains in-tact. Unfortunately, it is not possible to purchase a single shoe from Chaco, Keen, or Teva.